10 Random Questions
---
Ninety minutes after administration of succinylcholine 1 mg/kg to a 28-year-old woman, the train-of-four shows a T4:T1 ratio of 25%. This is most consistent with
(A) dibucaine number of 30
(B) hypersensitivity to succinylmonocholine
(C) pregnancy
(D) pretreatment with pancuronium 2 mg
(E) severe cirrhosis
---
Which of the following statements concerning postspinal headache is true?
(A) Cerebrospinal fluid leukocytosis occurs
(B) Intravenous caffeine therapy is more effective than epidural blood patch
(C) The incidence decreases with age
(D) The incidence is higher in males than in females of all ages
(E) The incidence is the same after single or multiple dural punctures
---
During frontal craniotomy for removal of an astrocytoma, the surgeon notes that the brain is "tight." The patient is receiving nitrous oxide 50% in oxygen, isoflurane 0.5%, fentanyl, and pancuronium. Heart rate is 92 bpm, blood pressure is 110/60 mmHg, end-tidal carbon dioxide tension is 31 mmHg, and oxygen saturation is 98%. The most appropriate initial treatment is to
(A) administer a beta-adrenergic blocker
(B) administer thiopental
(C) decrease isoflurane concentration
(D) decrease mean arterial pressure to 60 mmHg
(E) increase alveolar ventilation
---
To detect the delivery of hypoxic gas mixture, the optimal location for an oxygen analyzer in this circle is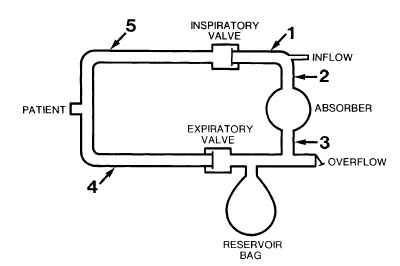 (A) 1
(B) 2
(C) 3
(D) 4
(E) 5
---
Each of the following is a characteristic of prostaglandin E1 (alprostadil) pharmacology in an infant EXCEPT:
(A) It is effective in the treatment of large left-to-right shunts
(B) It is a cause of apnea
(C) It is a potent vasodilator
(D) It prevents closure of the ductus arteriosus
(E) It is metabolized rapidly
---
A woman is undergoing a repeat cesarean delivery at term following a normal pregnancy. Anesthesia consists of thiopental 250 mg, succinylcholine infusion (180 mg in 20 minutes), nitrous oxide and oxygen (7:3 L/min) until delivery. Twenty minutes after the incision a floppy newborn with a 1-minute Apgar score of 5 is delivered. The most likely explanation for the infant's condition is
(A) high serum thiopental concentration
(B) high serum succinylcholine concentration
(C) high serum nitrous oxide concentration
(D) high serum glucose concentration
(E) uterine hypoperfusion
---
Cerebral blood flow is decreased by
(A) chronic respiratory acidosis
(B) hypoxia
(C) hypoglycemia
(D) polycythemia
(E) the postictal state
---
Which of the following is greater in an obese patient than in a nonobese patient of equal height?
(A) Milliliters of local anesthetic required for epidural block
(B) Milligrams of succinylcholine required for intubation
(C) Clearance of diazepam
(D) Clearance of fentanyl
(E) Oxygen consumption per body surface area
---
Neurolytic block is most appropriate for
(A) abdominal pain secondary to hepatic carcinoma
(B) abdominal pain secondary to chronic pancreatitis
(C) persistent chest wall pain secondary to intercostal neuralgia following a thoracotomy for trauma
(D) reflex sympathetic dystrophy of the upper extremity with an excellent but transient response to a series of stellate ganglion blocks with local anesthetic
(E) a diabetic patient scheduled for surgical sympathectomy to relieve unilateral lower extremity pain secondary
---
A 26-year-old woman is hospitalized in early labor at 38 weeks' gestation. Vaginal bleeding occurred prior to admission. Systemic blood pressure remains 140/80 mmHg during intravenous infusion of fluids. Which of the following factors would contraindicate epidural anesthesia for labor at this time?
(A) Early fetal heart rate decelerations
(B) Hematocrit of 29%
(C) Blood pressure of 110/75 mmHg when sitting
(D) Platelet count of 100,000/mm3
(E) Increased respiratory rate
---